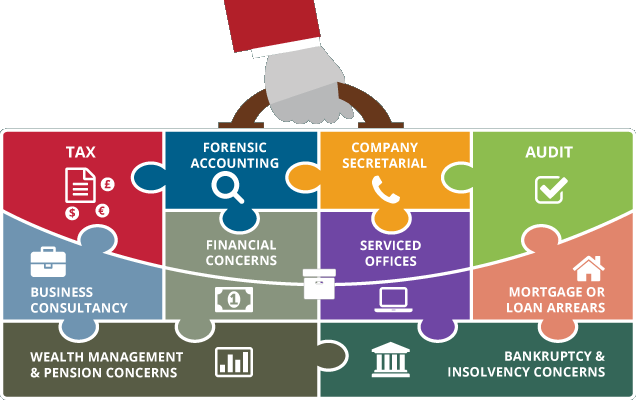 Services
CPC & Co Ltd has developed a reputation for delivering expert accounting, tax and business solutions.
Receive a free call to find out how our services can help you
Services
At CPC Accounting we have developed a reputation for delivering expert accountancy and tax advice, offering you sound business solutions. Our experience and knowledge of financial legislation has enabled us to develop a flexible approach to the services and accounting solutions we provide. What's different about our approach?
Overall we give you a personal service in a prompt and efficient manner.
Our services include:
For tax advice our fully qualified Tax Consultants are here to help you with any issues you may have. The team are all members of the Irish Taxation Institute, the premium body for Registered Tax Consultants in Ireland.
If you need a Tax Consultant familiar with UK tax laws, we have in-house UK trained chartered tax advisors that can support your UK tax concerns.
Our audit services are designed to provide assurance to you as a business owners or manager that your business is well managed, properly controlled and sustainable for the future.
In CPC Accounting we have a fully qualified Forensic Accountant with over thirty years of experience in the field. Our forensic accounting team provide a litigation support service to businesses and individuals which includes pre-trial investigatory research, leading to the preparation of an expert witness report for presentation at a hearing.
Our Company Secretarial Department is managed by personnel who are suitably qualified and trained in all aspects of company law and procedures.
Business consulting lies at the heart of all our client relationships. We spend time understanding you and your business, in order to help you move forward successfully.
We will negotiate with your lender in relation to future repayments taking your current and future circumstances into consideration.
We specialise in retirement planning, wealth management, succession and estate planning, tax planning and investment management.
Liquidation, Receivership, Administration – which option? The professional services of Charles P Crowley help you decide what is right for you and your business in an efficient manner for an effective fee.
Serviced offices are the risk free way to renting. West Cork Business & Financial Centre is a fully purpose built Business Centre, in the centre of Bandon town. We provide flexible workplace solutions, including: serviced offices, virtual offices, hot desks and meeting rooms and a whole host of business support services.
The Outsourcing Services we offer to Accountancy Firms, Tax Firms and Finance Departments allows our customers to increase their flexibility and reduce their costs by using our specialist outsourcing services. Whether you wish to outsource all or only a portion of your business administrative requirements we can help.
At Charles P Crowley & Co, we've helped countless new business start-ups to establish themselves as successful businesses with an assured, long-term future, now we want to help you.
Contact
CPC & CO. Ltd. Cork Accountants, The Granary, New Road, Bandon, Co. Cork, Ireland
Call Us Today:  +353 23  8841899 or +353 23 8841254
Fax: +353 23 8841819
Email:  charles@charlespcrowley.com