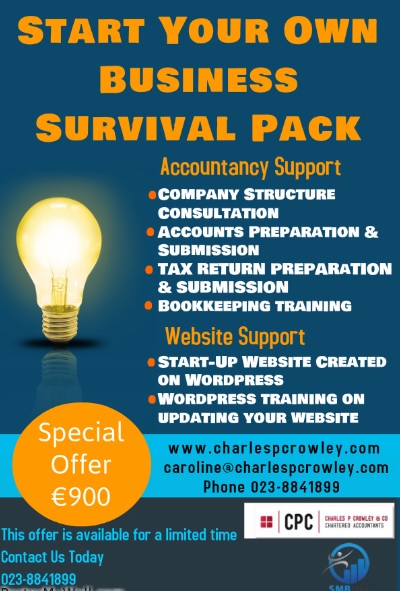 To promote entrepreneurship and support new entrepreneurs, we are delighted to announce  CPC's Start Your Own Business Survival Pack. We also wish to announce our partnership with website company SMBclix to help launch our 2015 Start Your Own Business Survival Pack.
Are you thinking about starting your own business? Then this start your own business survival pack could be for you. This start up pack provides Accountancy, Tax and Website Support for all new businesses be they sole traders or limited companies. We want to ensure these businesses have the best opportunity for success.
In excess of 50% of start ups do not succeed into year two we want to give all new business owners the best opportunity to succeed. We genuinely enjoy dealing with new business start-ups and get a kick out of the energy and positivity of people who make their business idea a reality. We are entrepreneurs ourselves and we firmly believe in fostering a positive and supportive environment for all early stage businesses.
At CPC we want to keep things simple so for a low cost amount of €600 you can get the advice you need to start up and start trading. This can be paid over 12 months meaning a €50 monthly payment will help you make your business idea a reality. A website for your business can then be created for €300. So what are you waiting for? Contact us today to arrange a consultation regarding the start your own business survival pack   023-8841899 or email our start up manager caroline@charlespcrowley.com