Huge Success For Our Open Evening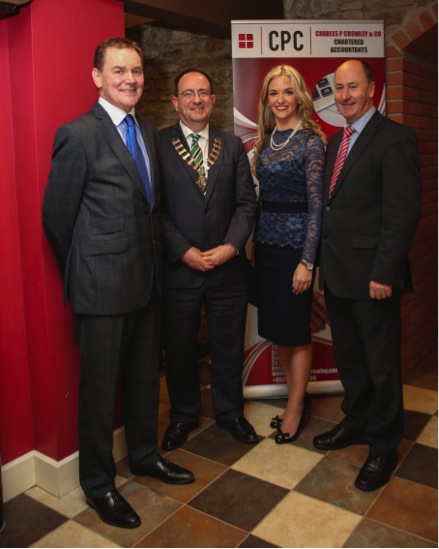 It is not all boring numbers …. as Charles P.Crowley & Company Accountants inject a positive spirit at exciting Open Evening

. The Bandon-based Accounting firm Charles P. Crowley & Company held an Open Evening on the 10th April in their magnificent premises on the New Road
The evening was a huge success, starting with an opportunity to appreciate the beautifully restored building and culminating in a guest speaking panel that showcased the expertise and experience available to the company's clients. Guests were entertained by a string quartet in the historic buildings where enterprise can be traced back to 1620.

Delicious gourmet appetisers served elegantly by enthusiastic staff in a beautiful environment is not the foray of a traditional accounting firm, but Charles P. Crowley & Company is no traditional accounting firm. Expect tradition, experience and reliability – but add a huge dash of intelligence, beauty, modernity and business acumen.
Caroline and Charles Crowley clearly understand the concept of "supporting local while offering an international standard". The use of Bandonian services endeared the company to many local hearts while the services and products on display were of the highest international standards.  Clients both new and old were visibly impressed with the offerings in both service and style.
The president of the Institute of Chartered Accountants of Ireland, Mr Brendan Lenihan, travelled from Dublin to congratulate Charles and speak at this special event.
In Charles' speech on the night, he reflected on how his service offering has adapted around the changes in the economy. Currently he is experiencing a significant increase in demand for his services as a personal insolvency practitioner. Caroline, on the other hand, is growing the outsourcing division significantly by focusing on both the domestic and UK markets.
Huge Success for CPC Accountancy Firm Open Evening
The keynote speaker for the evening Cork woman, Ms Susan Hayes, also known as "The Positive Economist," Managing Director of the international financial training company Hayes Culleton and author of  "The Savvy Guide to Making More Money" spoke with confidence of the "New Ireland" that was refreshingly upbeat, mirroring the sentiments expressed by both Charles and Caroline themselves. Susan stated "Ireland is on the cusp of a tangible recovery and it's up to us, the local businesses and organisations in West Cork, to ensure that we fully participate in it to the betterment of our companies and our economy."
The evening was a sophisticated spark in the life of Bandon and will be remembered for many years to come.