Financial advice for parents of children with special  needs
Two Bandon Business Women Join Forces For A Unique Event. Bandon Grammar School was the breeding ground for these two young professionals. They now run their own successful ventures, Caroline Crowley currently works in her fathers practice Charles P Crowley & Co having qualified as a chartered accountant and chartered tax adviser.  Alison Kingston is a Nutritional Therapist, her business Stepping Stones to Health is also located  in Bandon.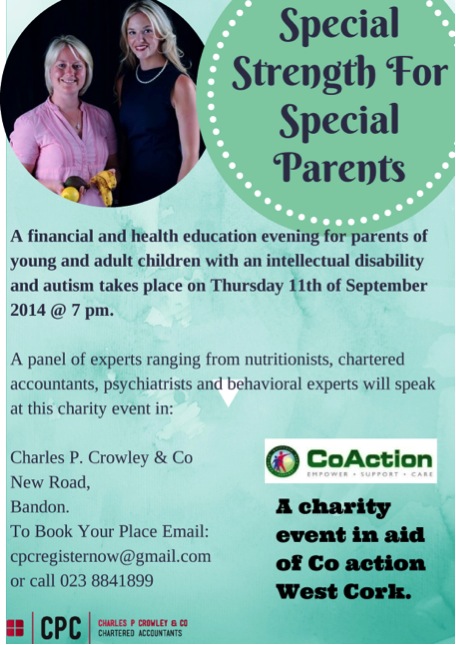 Although working in quite different areas they are now collaborating for a very special charity event. The event "Special Strength for Special Parents" is a financial and health education evening for parents of young and adult children with an intellectual disability or autism. Caroline's aim for the event is to "enrich parent's knowledge on the supports available to their child in order to help them plan for the future."  Alison has a passion for supporting people to reach their health potential by encouraging them to focus more on eating real wholesome foods and guiding them through lifestyle changes. The event will support carers navigate the unchartered waters of raising a child with behaviour issues.
The event will provide advice on many practical aspects from financial, taxation and state supports to optimum nutrition for optimum behaviour. There will also be experts ranging from psychiatrists speaking on the role of medication and psychologists speaking on the role of behaviour strategies as well as autism specialists available for one to one consultations on the night. Innovative local therapists from West Cork, including sensory, speech and play therapists and local organisations will showcase their services on the evening and will be available to speak and advise parents in a confidential and private manner.
The event is a fundraising evening to raise valuable funds for the hardworking team at Co-Action West Cork. It takes place on Thursday September 11th 2014 at 7pm in the offices of Charles P Crowley New Road, Bandon, Cork. The event is open to all and €10 is payable per person. To book your place email cpcregisternow@gmail.com or call 023-8841899. This definitely promises to be a charity event with a difference!